Member Benefits & Application
MAGE- OPEIU Local 2002 members are represented by our professional labor relations staff, our legislative lobbyists, Capitol Services, and in Board approved litigation by Brandon Zuk, of the Fraser, Trebilcock firm. Members are afforded the opportunity to serve on the Board and MAGE Committees, and become directly involved with the day to day activities of MAGE.
The Membership Benefits Program provided directly by OPEIU to all active members of MAGE-OPEIU Local 2002 includes:
MAGE - HotelStorm Exclusive Hotel Discounts of up to 55%
Identity Theft Protection - from InfoArmor - activate by calling 800-789-2720 or register at www.OPEIUidProtect.com
Nation Safe Drivers $200 per year benefit - provides 2 tows or service calls up to $100 each per year. Please note the year begins at the time of your first call. To receive a tow or service call NSD at 1-800-617-2677 Producer Code: 74046 Plan Code C - you are a member of MAGE OPEIU Local 2002 and your MAGE number is your State of MI Employee ID number.
A $7,000 Life Insurance Benefit
A $7,000 Accidental Death and Dismemberment Insurance Benefit
A $500 Disability Benefit
OPEIU Union Scholarships - Howard Coughlin Scholarship worth over $6,000 plus John Kelly and Romeo Corbeil scholarships.
Union Plus Benefits - Scholarships and a wide range of high quality benefits with great values in many areas, including credit card with 0% interest for 12 months and mortgage services, legal services, auto purchases and rentals, travel & recreation and many more - visit www.unionplus.org
MAGE Scholarships and Student Debt Reduction Awards at $1,000 each (usually 3 or more awarded each year). Winners are randomly selected from all applicants. Click here for the application and instructions.
OPEIU FREE COLLEGE Benefit. Click here for the flyer.
RETIREES - may join MAGE for $25 per year or for a $60 annual fee you can be an Enhanced Retiree Member
Enhanced Retiree Benefits include: $2,000 Accidental Death and Dismemberment Policy, Towing/service Benefit for 2 calls per year up to $100 each, Identity Theft Protection, Free College Benefit, HotelStorm discounts, Union Plus Discounts and Membership in the WellCard Health Program.

WAGES- COORDINATED COMPENSATION PANEL PROCEEDINGS UPDATE AS OF DECEMBER 13, 2017
Following discussions between the unions representing NEREs and the Office of the State Employer, the Civil Service Commission on December 13, 2017 approved the following which will be implemented as of October 1, 2018.
WAGES: In October 2018: 2% base wage increase
RN Mangers - $5,000 recruitment bonus for newly hired RN Managers and $5,000 Retention bonus for current RN Managers. Although this was negotiated last year - most departments were unable to find the funding to pay the bonuses. Therefore, the commission agreed to give the departments another year to implement.
Psychiatrists - the Commission approved a retention bonus as well as a pay increase for managers and directors. The change also moved psychiatrist managers and directors levels 19 and 20 into the pay for performance pay system.
MAGE continues working hard to enlighten the Civil Service Commission regarding inequities for NEREs in the future. The MAGE Compensation Process for the non-exclusively represented employees.
Click here to see
MAGE's Coordinated Compensation Proposal
for FY 18/19.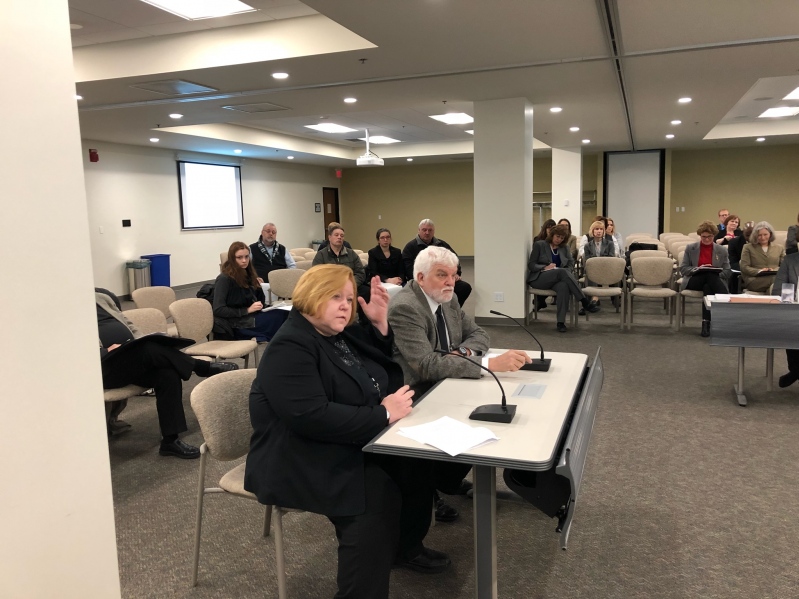 Al Quattrin and Andrea VanDenBergh testifying at the Civil Service Commission Meeting Dec. 13, 2017